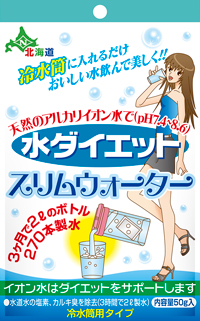 It is included kinds of minerals and for diet by drinking every day.

It eliminates chlorine and chlorine odor in the tap water and makes tasty water.
Please drink water with 1.5L~2.0L a day.
You can drink large amount of water because of water molecular architecture and water with a pH more than 7.4. Improves blood flow.
Good for tea, coffee, cooking rice, etc
Goes with whisky, etc
Prolongs the lives of cut flowers and other plants
Mix the content in a flowerpot after using for 3 months.





1.Wash this product with water before using.

2.Put this product in a water cooler. After 2~3 hours, you can drink it.

CAUTION!!!
This product is only for cold water.
Do not put this product in an electrical pot.
Move made-up water to a pot for tea and coffee.
Water is getting less, put water in sequence.
In case a bag is damaged, you can use just content.
*2L × 270bottles for 3 months.
You can use it more than once.
The water of dissolution
for Slim Water (mg/l)

Calcium
8.68
Magnesium
1.72
PH value
8.5
 Residual chlorine
0.05

From Hokkaido Pharmaceutical Association Public Health Examination Centre